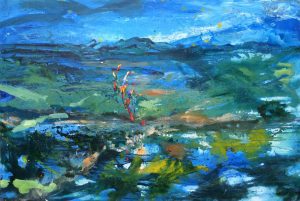 Our day is about letting materials flow, mixing and texture and colour, allowing the magic to unfold without a desired outcome.  When we allow this to happen, images can rise from the paint.
It's a powerful way to create.
There is no outcome to achieve, if any goal does exists, it's seeing just how much we can let go of expectation and judgement.  Paint as if the outcome doesn't matter to you.  Come and mix materials – acrylic,  ink, pastel and more, and see what happens.  You will be amazed what happens.  If you believe you are rubbish at art and not in the least bit creative then this is the workshop for you.
All materials provided. £90
Lecropt Kirk Hall
Bridge of Allan FK9 4NB
To reserve your space with a £45 deposit and for further details, please call me on 07773 347 780 or message me via the contact page on this website.