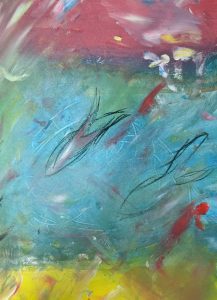 What is Creative Flow?
Creative Flow is about making free with water based paint, adding ink, pastel and charcoal if we want.  Creating, mark making, detaching from any outcome until we see images rise irresistibly.
We recognise our ego fears and doubts that arise as we explore the materials, false ideas that we can't do this or will look foolish if we try.
As the colour and texture lead us, there are no mistakes that can be made and it's such an empowering way to work.
How can I take part?
Get together a group of up to five people and choose from the dates below.  If you are looking for others, contact me and I can help with numbers.
The price for a four hour workshop is £160 and can be split between up to five people. All materials are included.
I suggest 2 – 6pm but can be flexible.
Have a look at the testimonials below and if you're interested please contact me here or call me on 07773 347 780.
Next available dates
Thursday 7 April 2-6pm
Thursday 14 April 2- 6pm (one space available)
Testimonials:
" Thank you Iona, for sharing with us your wonderful and unique painting experience in a friendly, welcoming and non-judgmental environment."
"Iona, you are such a positive and supportive tutor, always there to give us one to one guidance as well as constructive feedback."